April Economides on Swoop's World Primetime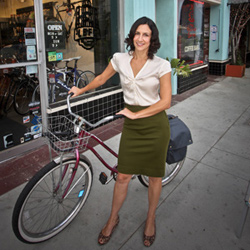 On Thursday, December 6, 2012, at 11 am/PST, 2pm/EST, on Swoop's World Primetime, Swoop and Peter welcome green urbanist, and bicycling advocate, April Economides. April has extensive experience in creating and advocating for bike-friendly business districts around the U.S. and Canada. She leads by example by living car-free, while raising a daughter and running a business in Southern California. Swoop's World Primetime is on Thursday's from 11am/PST – 12pm/PST tune in at Swoopsworld.com.
April Economides
April Economides, a seasoned sustainability professional with an M.B.A. in Sustainable Management, founded Green Octopus Consulting in 2003. There are few things that bring her more joy than vibrant, healthy cities – both visiting them and helping create them. Some of her happiest memories include riding down separated bike lanes in Washington, D.C. and enjoying the urban parks of New York City.
Listen live or on-the-go, find out the many ways to tune in to Swoop's World.
Tweet