Summertime Fun at Some of SoCal's Beaches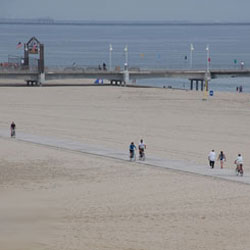 It's no secret that Southern California has some of the best beaches in the world – after all, it's one of the most enjoyable places to tune into Swoop's World Radio and enjoy a day in the sun. With this in mind, here's a quick guide to some of the most amazing beach locations which this area of California has to offer – you won't want to miss out!
Huntington Beach
Huntington Beach is often known as 'surf city' – and after a quick visit to this stunning location, it's easy to understand why. This is the beach that you are most likely to see on YouTube and it has become something of a must-see for visitors to Southern California over the years. Whether you're looking to jump in the surf or just lay on the beach playing partypoker and listening to Swoop's World, you'll still find plenty to enjoy at this particular beach.
Long Beach
If you're into cycling, many Southern California beaches offer bike paths along the shoreline. Vying to be the most bike friendly city in the U.S., Long Beach offers bike paths throughout the city including one amazing ride along the coastline. From the L.A. River to the peninsula, the Long Beach bike path offers beautiful ocean views and an easy ride for all ages.
Venice Beach
Another iconic Southern California beach has got to be Venice Beach. Not only does this beach offer plenty of opportunity to catch musicians, crafters and and body builders doing their thing, but you might even be able to catch a glimpse of a few famous faces while you're at it!
Laguna Beach
If you're keen to spend time amongst the beautiful people, rubbing shoulders with trendy fashionistas, then Laguna Beach is the place for you. This Orange County beach is a favorite with college kids, and there's nearly always a volleyball tournament taking place.
La Jolla Cove
For those looking to avoid the crowds, particularly during peak season, La Jolla Cove can offer a beautiful beach alternative. This small and secluded location provides one of the most picturesque beaches in Southern California, and has become a popular spot for scuba divers, as well as for those who love to experience the beauty of nature.
Listen live or on-the-go, find out the many ways to tune in to Swoop's World.