Swoop's World Live at The Old Town Orange Farmers and Artisans Market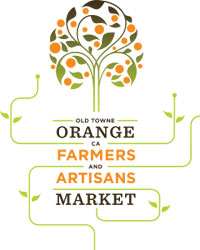 On Saturday, June 16, 2012 Swoop's World broadcast live from the Old Town Orange Farmers and Artisans Market. After working through a few tech issues we were happy to get to meet and interview several of the venders, volunteers, and local residents that make the market such a success.
Old Town Orange Farmers and Artisans Market
Founded and run by long time Orange California residents, Orange Home Grown Inc's primary mission is to cultivate a healthy community through family friendly and community based educational programs in collaboration with likeminded community organizations. Emphasis is placed on wholesome nutrition, sustainable practices, health and fitness, and strengthening neighborhood and community relationships. Educational events will be geared to all ages and income levels.
Megan Penn, President – Executive Board
Megan holds a Bachelor of Science degree in City and Regional Planning with an emphasis in Urban Design from the California Polytechnic State University of San Luis Obispo. She is a 2007 graduate of the Leadership Orange Program and she serves on the Pitcher Park Community Foundation. She is Home Grown here in Orange and lives in town with her husband and two French bulldogs. She believes in giving back to this community and understands the importance of sustainability and education through outreach. She currently has 8 years of experience in her field and holds the position of Project Planner at KTGY Group, Inc. an award winning full-service architectural and planning firm in Irvine Ca.
Betsy Elliott, Treasurer – Executive Board
Betsy, an Orange native, holds a BFA in graphic design from Chapman University. After college her diverse interests and creative talents took her to Germany, where she worked for four years in the marketing department for the Armed Forces Recreation Center. Upon her return, she worked at a local specialty cheese shop as an assistant manager. She enjoyed using her talents at the shop, where she could interact with local community residents. She now works as an executive assistant at Mr. Crane, Inc. in Orange. Her love of cheese and the local community can be traced through her lineage, as she is the granddaughter of Dutch immigrants who once owned a dairy business in Orange County.
Brian Kunisch, Secretary – Executive Board
Brian holds a Bachelor of Science Degree in Management Science from the University of California, San Diego. Upon completion of his studies in San Diego he returned home to his Orange roots, friends, and family and continued his graduate studies at California State University, Fullerton, completing his Master of Business Administration. Throughout his studies at CSUF he worked as Operations Manager at a manufacturing plant in Placentia, and continues to do so while making Orange his permanent home. As an Eagle Scout with Troop 51 (sponsored by St. John's Lutheran Church) he has always been active in community service and projects and is excited to assist in the establishment and growth of a Farmers and Artisans Market in the heart of his hometown Orange.
Matt Ludin, Director – Board of Directors
Matt holds a Bachelor of Science degree in Sociology from Northern Arizona University in Flagstaff, AZ. He was born and raised in Orange and now lives in the center of the city in the Old Towne Plaza area. Matt is a strong believer in preserving the old town charm of the city, but also wants to see and help it grow with the times. He currently manages nationwide educational programs at the Ayn Rand Institute, a nonprofit organization in Irvine, CA. As a part-time nature and travel photographer, he also runs Matt Ludin Photography.
Carolyn Cramp, Director – Board of Directors
Carolyn holds a Bachelor of Arts in Business Administration with an emphasis in International Business. Carolyn grew up attending school at Holy Family in Orange, where she made a lifetime friendship with fellow Home Grown members: Megan Turner, Matt Ludin and Betsy Elliott. After Holy Family, she attended Rosary High School in Fullerton and then back to Old Towne Orange for 4 years at Chapman University. Carolyn now works in Brea for the PennySaver and is a part of their National Accounts Sales Team. Recently, Carolyn organized and hosted a fund raiser to raise over $5,200 for the Eddie Arrioja scholarship fund at Holy Family Cathedral School.
Vicky Kisow, Director – Board of Directors
Vicky holds a Bachelor of Science Degree from California State University Fullerton. She is a mother of 7 and grandmother of 8. Vicky has lived in Orange for 33 years with her husband Rick. She has volunteered for many years at Holy Family Cathedral and Saint Norbert Church. She was on the Board for the Foundation for Saint Joseph Hospital Cancer Center for 3 years. She currently serves on the Pitcher Park Community Foundation. Vicky has worked in Orange for the last 20 years at a dermatology office in Orange.
Nedra Kunisch, Director – Board of Directors
For the past thirty years Nedra Kunisch has been an advocate for young children and their families. She is recently retired from Children's Home Society of California (CHS) as the Administrator of the Family Child Care Network in which she ensured program quality and compliance of Desired Results for children and Families implemented by the California Department of Education. Nedra has a Bachelor of Arts degree in Communications/Public Relations from California State University, Fullerton and a Master of Arts in Human Development with a specialization in Leadership in Education and Human Services: College Teaching/Teaching Adults from Pacific Oaks College in Pasadena. After serving on the Orange County Head Start, Inc. Board of Directors for three years, she currently serves on the Orange Children and Parents Together, Inc. Board of Directors. She currently resides in Orange, California with her husband, Phil and Golden Doodle, Augie.
Kirsten Trautwein, Director – Board of Directors
Kirsten holds a Bachelor of Arts degree in Economics and Sociology from the University of California, Los Angeles. She currently works for a commercial real estate owner as an Asset Manager and has been a member of the Building Owners and Managers Association of California for the past 3 years. She recently moved to Orange, following the footsteps of many family members, and is engrossed in its history while also being eager to be part of its future. Her parents have over 160 Avocado and 20 varietal citrus trees, grooming the love of fresh produce at an early age.
Martha Turner, Director – Board of Directors
Martha holds a Bachelor of Arts degree in Art and Home Economics from California State University at Northridge. She also holds a secondary teaching credential in art from the University of California, Irvine. Martha taught art for several years at Yorba Junior High School in Orange. She went on to develop a craft business for 10 years and also did interior design for many years. She has been on school boards and recently participated as a board member for The Saint Joseph's Hospital Foundation in Orange. She has been married for 39 years and a resident of Orange for over 30 years.
Listen live or on-the-go, find out the many ways to tune in to Swoop's World.