Bob Case and The Big Announcement on Swoop's World Late Night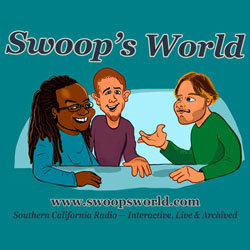 On Wednesday August 26, 2015 at 8pm/PST (10pm/CST, 11pm/EST) join Swoop, Peter and TBone for another edition of Swoop's World Late Night. We kick off the night with Bob Case, Vice-President of the International Boxing Association. Bob is a lifelong supporter and fan of USC football, so we'll get his take on Coach Sarkisian's behavior at the "Salute to Troy" event. Following our interview with Bob Case, we'll be up to all of our usual fun with our Brewskis beer tasting segment, TBones Timeout, USC legend Anthony Davis, and at 9:15 a very BIG ANNOUNCEMENT! Swoop's World Late Night is on Wednesday's from 8pm/PST – 11pm/PST tune in at Swoopsworld.com.
Listen live or on-the-go, find out the many ways to tune in to Swoop's World.
Tweet