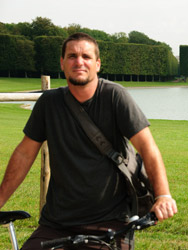 Peter Dopulos is an avid cyclist. Growing up in Orange County, he spent many a summer day chasing the sun and riding his bike along California's world famous beaches. Later he became a confirmed cyclist commuter. Currently based in Southern California, Peter delights in discovering new cycling routes with his wife and two children.
Peter is a freelance writer and created a virtual how-to guide to the City of Long Beach California's numbered bike routes, including highlighting family friendly rides. Peter co-created and is editor of Flask and Pen, a web publishing project that began in Los Angeles and spread like wildfire to San Francisco, New York, Philadelphia, Boston, San Diego, Seattle, Miami, and Detroit. Peter also cohosts the successful internet radio show, Swoop's World Radio, which strives to spotlight Southern California artists, musicians, philanthropists and entrepreneurs.
In addition to his time spent writing, Peter Dopulos is a stone sculptor. His art is collected by a diverse clientele, and he successfully shows throughout Southern California. Peter sculpts pieces using the traditional hammer and hand chisel method used by ancient masters and rarely seen in the modern world. To support his community and his love of art, Peter Dopulos co-founded First Fridays Long Beach. First Fridays is an art collective which has brought new vitality and urgency to Bixby Knolls in Long Beach. As a result of his efforts, Peter won the Human Dignity Award from the Long Beach Human Dignity Commission in September of 2007.
Peter is also a classically trained chef, and has owned bi-coastal catering operations.
Peter Dopulos attended University of California at San Diego and the Culinary Institute of America located in Hyde Park, New York