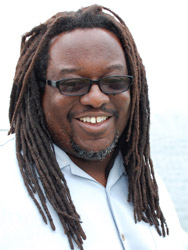 "Dream as if you'll live forever; Live as if you'll die today." — James Dean … and the mantra that Swoop lives by.
Born and raised in southern California, Swoop, the father of three children, believes in enjoying each day to the fullest.
Swoop first got his shot at radio broadcasting while attending the University of Redlands and spent several years broadcasting at KUOR (Redlands), KCEB (Cerritos), & KSUL (Long Beach). During those years he also held positions as Program Director and Director of Advertising.
Swoop left radio and enjoyed a rewarding career in law enforcement. During which he received numerous awards, worked many memorable assignments, and noteworthy events prior to moving on to the next chapter of his life. Which entailed, among other things, opening a coffeehouse.
He has worked as an actor, artist (photography & oil painting), writer, editor, producer and host, as well as founding several businesses. His writing has been published by multiple publications and his art has been shown and sold at various art shows and festivals. Swoop is co-founder of several websites including Flask and Pen, and Greenworld365.
Swoop has been actively involved in his community in a variety of ways including promotion of the arts. His love and desire for the arts and assuring that all have equal access to enjoy it, led to him co-founding First Fridays Long Beach. First Fridays is a monthly art event, which has brought spark and neighborhood camaraderie to the Bixby Knolls area of Long Beach. Because of the success of First Fridays Long Beach, he was nominated and awarded the Human Dignity Award from the Long Beach Human Dignity Commission in September of 2007.
In December 2009 Swoop, started Swoop's World Radio.
"Swoop's World started as another outlet for us to support our community and highlight the great things going on in Long Beach. Be it local elections, art events, local businesses, or spotlighting people making a difference in our community," said Swoop. "We had no idea that the show would grow to the world-wide audience we have today, and we're very grateful for the wonderful support we've had from listeners and guests."