Author Marti Rulli 'Goodbye Natalie Goodbye Splendour' on Swoop's World Primetime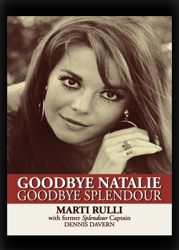 On Wednesday February 16, 2011 at 8pm/PST we are happy to have Marti Rulli author of Goodbye Natalie Goodbye Splendour is our guest. This beautifully written book delves into the mysteries and questions that, after almost 30 years, still surround the death of Natalie Wood, one of Hollywood's most beloved actresses.
Goodbye Natalie Goodbye Splendour is the poignant story of a young, cavalier adventurer, Dennis Davern, who landed the position of Splendour Captain and how the Wagner family welcomed him into their hearts and home. The death of Natalie Wood in 1981 sent shock waves throughout the world and remained an enduring mystery. Dennis reached out to his friend Marti. Her mission to substantiate Dennis's account led her on a personal quest for truth that spanned decades. Many of the lingering questions are solved.
Join us as we have an opportunity to speak with Marti, who has investigated the death of Natalie Wood for many decades and uncovered some glaring inadequacies in the investigation. As well as shining a light on what some may say are the effects that the power of celebrity and privilege played in thwarting a thorough investigation.
After our interview with Marti Rulli, Lisa Hernandez of Long Beach Depot for Creative ReUse joins us to fill us in on the Pepsi Refresh Creative Reuse Day Celebration happening on February 27th.
Listen live or on-the-go, find out the many ways to tune in to Swoop's World.
Tweet