Divinity Roxx on Primetime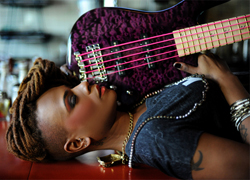 On Thursday, October 20, 2011 at 12pm/PST, outstanding musician/world renowned bass player Divinity Roxx, is our guest on Swoop's World Primetime. Divinity joins us to tell us about all of he great things she's doing, including her appearance at the upcoming Bass Player LIVE! Event.
Listen to the interview
Divinity Roxx
"Thanks to my Mom every one of my pre-school days started with music. She'd wake me up in the morning to the sounds of whatever song she needed to hear to get her through the day. As a little girl, my Mom was the most powerful person I knew and since music could make her mightier, it was the most powerful thing in the whole world in my eyes. As I got older, listening, dancing and going crazy to music wasn't enough. I had to have my hands all over making it too. It took me a minute to find my strength, but after the clarinet, the chorus and the handbell ensemble in elementary school I found my pulpit rapping and free-styling at the lunch table in high school. I graduated to rapping with my boys in front of a crowd and knew that pure joy and freedom were attainable even for a girl from Atlanta, like me. In college I picked up the bass, fell in love with the bass, dropped out of college (like Kanye, but I'm going back someday) and went on tour with the best bass player in the world (bow to Victor Wooten), and then I went on tour with the biggest star in the world (curtsy to Beyoncé). Now I have a million little stories to tell and music is the only way I know how to tell them."
Divinity Roxx is a dynamic musical artist who counts world renowned bass player, acclaimed rapper and producer as credits on her resume. Growing up in Atlanta, GA, Divinity explored music from a young age. She started rapping in junior high school and began playing the bass in college. When Divinity combined the two skills, she found her unique ability to play ferocious bass lines and rap simultaneously. This display of finesse and dexterity got the attention of Victor Wooten, arguably one of the best bass-players in the world. Divinity was a featured part of Wooten's live show from 2001 through 2005 and can be heard on two of his albums, Live In America (2001, Compass) and Soul Circus (2005, Vanguard). In 2006 Divinity joined Beyonce's all-girl band and has been touring the world with this global megastar, playing to sold-out crowds from Australia to Brazil. Divinity is a featured part of Beyonce's current DVD collection, including the Beyonce Experience (2008), I Am…Sasha Fierce (2010), and I Am…Yours (2010).
Divinity Roxx has recently developed her own signature bass guitar with Warwick and is currently working on a solo CD set for release in 2011…
Bass Player LIVE!
Bass Player LIVE! is back to bring players, manufacturers, and artists together in an intimate environment for hands-on access to the latest instruments, equipment and instruction on playing technique and application. This year's event will feature two-days of exhibition, live demos and clinics on October 22 and 23 at SIR Studios, and a special evening concert at Key Club on Saturday, October 22 featuring performances by Jack Casady, Larry Graham, James Jamerson Tribute Band featuring James Jamerson Jr., and Bass Player LIVE! All-Star Jam hosted by Steve Bailey. The exhibition/clinics are for players of all levels, and manufacturer exhibits will showcase current basses and equipment to the bass community at large. All musicians are welcome. To purchase tickets to the exhibition/clinic or concert, please visit http://www.bassplayer.com/bplive/5294
The evening concert will feature a "Lifetime Achievement Award" presentation to funk legend Larry Graham, rock visionary Jack Casady, and posthumously to Motown Master James Jamerson. Casady will open the concert with guitarist Jorma Kaukonen and multi-instrumentalist Barry Mitterhoff, as Acoustic Hot Tuna, a Jamerson Tribute Band featuring James Jamerson, Jr. and Pino Palladino will follow, and then Larry Graham will perform with members of his Graham Central Station and special guestMarcus Miller; plus an all-star jam with many of the participating musicians to conclude the evening.
"Bass Player LIVE! 2011 has one of the strongest clinic lineups of BPL! talent ever," comments Joe Perry, Group Publisher of Music Player Network. "In addition to Larry Graham, Jack Casady, Steve Bailey, Anthony Jackson, Marcus Miller, Pino Palladino, Andrew Gouche, Rickey Minor, Hadrien Feraud, Janek Gwizdala, Jonas Hellborg and many more, there will be a number of special guest appearances not to be missed."
Listen live or on-the-go, find out the many ways to tune in to Swoop's World.
Tweet