Swoop's World Late Night-Lance Keller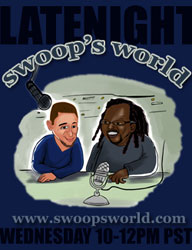 Join us Wednesday February 16, 2011 at 10pm PST on Swoop's World Late Night our guest is Lance Keller of Digital Legacy. Lance's business helps bring your past to the present for future generations to enjoy.
Of course Chris and Taylor join us with "C-liv's Late Night Snackin's" and "T-Bones Timeout" sports report. Tune in and listen and join the conversation on the Chatline, there's more than enough fun for everyone!
Imagine being able to watch your great great grandparents tell stories about how they met, how they emigrated to America or how they made their mark on the world. What were their values? What was important to them? What did they sound like when they laughed? A Digital Legacy video makes this possible for future generations.
A Digital Legacy video is a portrait of an individual telling family stories, recounting personal history and offering insights for future generations. We are fascinated by people, their stories and in capturing their treasured memories. This history in the voice and picture of the subject creates a permanent record rather than solely a file of pictures and scattered stories that change through the generations. Old photos are given meaning and give the stories context and document the passing years.
Listen live or on-the-go, find out the many ways to tune in to Swoop's World.
Tweet