Jarred Ekstrom of Beachwood BBQ on Swoop's World Late Night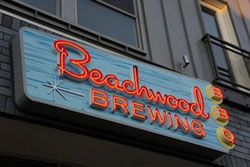 On Wednesday August 8, 2012 at 8pm/PST (11pm/EST) we welcome Jarred Ekstrom of Beachwood BBQ. And we just found out Brewmaster/Co-Owner, Julian Shrago will also be headed to Swoop's World. Needless to say we are ecstatic to spend some time talking to Jarred and Julian about two of our favorite things, beer and bar-b-que, and one of our favorite places, Beachwood! After our interview we'll be up to all of our usual fun with our Brewskis beer tasting segment, TBones Timeout, followed by our take on all topics, as well as any interesting news of the day. Swoop's World Late Night is on from 8pm/PST – 11pm/PST tune in at Swoopsworld.com.
Beachwood
BBQ, the great divider, the true American cuisine, differing from region to region, appreciated by millions, is the gateway to endless dialogues about technique, authenticity and even meaning. Like our fellow debaters, we have an opinion, like it or not. The Beachwood Way is our interpretation, our vision, our take on BBQ tradition.
The Beachwood approach is low and slow. All meats are slow smoked and dry rubbed, succulently flavored to allow the true meat flavor to stand on its own – that means no saucy coating. No sauce? Yes, but you do have a variety of tableside sauces to choose from, if you so please.
Homemade and from scratch means their food takes a little longer to prepare. All appetizers and entrees are prepared to order. So, it may take a bit longer for your food to arrive at your table, but rest assured, once it does you will appreciate the efforts and lengths Beachwood goes through to serve high quality, uncompromisingly tasty 'que.
Microbrews… 22 rotating taps, plus one cask conditioned beer, have been hand selected for your pairing (and drinking) pleasure. They go to great lengths to find the most rare, most unique, and most first-rate beers. Here you won't find Coors, Heineken, or Bud. What? Well, they've devoted their beer line up to those special brews that not only enhance the food they serve, but also represent some of the finest beers you'll find around. The folks at Beachwood like to think they can convert anyone. On any given week, they'll go through 10 kegs, so don't be surprised when you come in and don't see the beer you drank yesterday. They've replaced it; it's gone, dunzo, adios…you'll be lucky to ever have the same beer twice.
Grab a pint that pairs well with the 'que or just drop in for a drink on its own…they don't care, but please try one of these beers, you won't be sorry.
After our interview with Jarred Ekstrom and Julian Shrago we'll be up to all of our usual fun including "Brewskis" Beer Tasting sponsored by DrinksWinesSpirits.com, sports talk, rants and more.
This week we'll be tasting Carolina Blonde Cream Ale by Foothills Brewing located in Winston Salem, NC.
The Swoop's World iPhone app is now available in the iTunes store. Download yours for free now!
Keep up with what's happening here at Swoop's World. Sign up for our newsletter and be the first to know about upcoming guests and shows.
Every episode of Swoop's World is archived here on the website. You can find it the next day embedded with the weekly episode description. Or log onto iTunes and download it straight to your favorite MP3 player.
View more of the show here.
Listen live or on-the-go, find out the many ways to tune in to Swoop's World.