Tanna Frederick, Yancy Butler, and Joe Butler on Primetime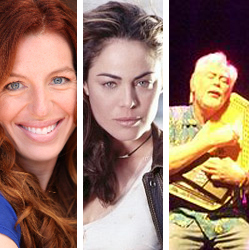 On Thursday, February 16, 2012, at 12pm/PST on Swoop's World Primetime we're happy to have two wonderful actresses and a rock-and-roll legend as our guests. The first hour actress Tanna Fredrick returns and will fill us in on her recent projects and her new play "Why We Have A Body" which will be her directorial debut. After Tanna actress Yancy Butler returns, along with her father rock-and-roll legend Joe Butler of The Lovin Spoonful. This may very well be the first time that the talented father and daughter have been interviewed together and we're sure it's going to be a great time. Yancy will tell us about her latest projects, recent filming, and growing up with a Rock-and-Roll Hall of Famer. With stories that may go back to the early 60's we have no idea where Joe will take us but we're absolutely sure it'll be a fun ride. Tune in at Swoopsworld.com.

Tanna Frederick
Tanna Frederick makes her directorial debut with "Why We Have A Body" and portrays Mary. A critically praised audience favorite, Ms. Frederick recently concluded a record-breaking long run starring at Edgemar Center in the title role of A.R. Gurney's "Sylvia" and, a year earlier, in Henry Jaglom's "Just 45 Minutes From Broadway." Her Edgemar debut, a year before that, was in Jaglom's "Always….But Not Forever." She previously appeared in Robey Theatre Company's "For The Love Of Freedom: Toussaint" and, at the Skylight Theatre, in "A Safe Place." Her extraordinary film career includes starring roles in "Hollywood Dreams," "Irene in Time," "Queen of the Lot" and the upcoming "Just 45 Minutes From Broadway," opposite Judd Nelson, due for theatrical release this summer. She has just completed filming principal photography on "The M Word," co-starring with Michael Imperioli and Corey Feldman. She is also the founder of Project Save Our Surf, as well as the prestigious Iowa Independent Film Festival.
Tanna recently starred as a dog in the title role in "Sylvia" at the Edgemar Center, and received accolades for her work. "Frederick is nothing short of terrific…Four paws up!" said Jose Ruiz of ReviewPlays.com
Frederick can be seen on the big screen starring opposite Noah Wyle in Henry Jaglom's romantic comedy "Queen of the Lot." She stars as Maggie Chase, as actress desperate to claw her way off the B-list of action films into major movie stardom.
Betty Jo Tucker of ReelReviews.com says of the chemistry between Frederick and Wyle, "their 'opposites attract' banter reminds me of old-time movie couples like Tracy and Hepburn. And their onscreen chemistry is undeniable." Frederick won Best Actress at the Wild Rose Independent Film Festival for her role.
Joe Butler
Joe Butler was in the Air Force when he met Steve and Skip Boone and formed the Kingsmen, one of the top bands in Eastern Long Island in the early 1960's. After leaving the service in 1963, Joe headed straight for Greenwich Village where he began singing in clubs and recorded sides for a solo album on Mercury Records. Producer Eric Jacobson suggested that Joe and Steve Boone hook up with John Sebastian and Zal Vanovsky, and the Lovin' Spoonful was born.
The Spoonful became one of the most popular and influential American bands of the '60's, creating more than a half dozen albums as well as soundtrack music for the debut films of Woody Allen ("What's Up, Tiger Lily?," 1966) and Francis Ford Coppola ("You're a Big Boy Now,"1967.) In 1968, John Sebastian left the group. Joe, Steve and Jerry Yester carried on, releasing several charting singles and the album "Revelation/Revolution before moving on to their own projects in 1969.
After the Spoonful stopped touring, Joe Butler landed Broadway leads in "Hair," "Mahogany," and "Soon," collecting raves. Joe appeared in a half- dozen feature films, including "Born to Win" with George Segal and "One Trick Pony" with Paul Simon. He also composed music for many commercials.
Since the Spoonful reunited in 1991, Joe Butler has stepped out from behind the drums as lead singer, performing the classic hits, new Spoonful material and his own new songs.
Joe lives with his wife Kim in Greenwich Village, and is the proud father of actress Yancy Butler, star of TV series "Mann and Machine" and "South Beach" and films "Hard Target" and "Drop Zone."
Yancy Butler
Yancy's first major role was in the television series Mann & Machine in 1992, in which she played an android police officer partnered with a human detective. The series was set in Los Angeles in the near future. The series was co-created by Dick Wolf, of Law & Order fame. A year later, she starred in her second series, South Beach also for Dick Wolf, in which she played a con artist and thief who made a deal with the federal government: in exchange for their wiping of her criminal record, she performs certain tasks for them.
While Butler's first appearance was a small role as a small girl in a 1979 slasher film Savage Weekend, her next film appearance was the starring role in John Woo's 1993 film, Hard Target, featuring Jean-Claude Van Damme. She then starred in the 1994 film Drop Zone, featuring Wesley Snipes. In 1995, she starred as Corinne the dancer in the film Let It Be Me. Butler was cast as a series regular in the television series Brooklyn South playing Anne-Marie Kersey, a Brooklyn policewoman, which ran for a full season in 1997–1998.
Yancy starred in the made-for-television film Witchblade (2000) and the subsequent television series, based on an adaptation from the comic book (also titled Witchblade), which ran for two seasons on the Turner Network Television network (TNT) for a total of 23 episodes. The series has a "cult television" following, and was ranked seventh in the Top 10 Basic Cable Dramas for 2002 (Multi-channel News, February 24, 2003).
Butler appeared in another comic book adaptation, the film version of Kick-Ass, based on the Marvel/Icon Comics series by Mark Millar and John Romita, Jr.~ From Wikipedia
Listen live or on-the-go, find out the many ways to tune in to Swoop's World.
Tweet