Jack Struble on Swoop's World Late Night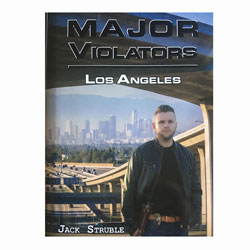 On Wednesday August 3, 2016 at 8pm/PT (10pm/CT, 11pm/ET) we are happy to welcome Jack Struble, author of the newly released book Major Violators, to Swoop's World. Tune in as we get to know Jack and discover all about Major Violators, and what motivated him to write his first book.  Following Jack Struble, five time National Champion, USC legend Anthony Davis will join in to discuss a variety of topics. Swoop's World Late Night is on Wednesday's from 8pm/PST – 11pm/PST tune in at Swoopsworld.com.
Jack Struble
Jack Struble was born in Iowa, and is a veteran of the U.S. Army. He retired from the Los Angeles Police Department in 2003, where he had assignments in gangs and homicide, and served for over fifteen years in major narcotics. During this time, he also worked with federal agencies operating on counter-terrorism and cartel-related activities on the West Coast. After retiring, Jack started his own investigative and risk-assessment firm, and now enjoys reading, writing, and travelling with his wife Kathy, son Justin, and dogs Max and Brodie. This is his first novel.
Listen live or on-the-go, find out the many ways to tune in to Swoop's World.
Tweet