NFL Hall of Famer Ron Yary on Swoop's World Late Night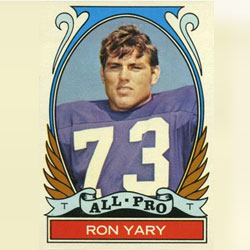 On Wednesday October 12, 2016 at 8pm/PST (10pm/CST, 11pm/EST) we are happy to welcome NFL Hall of Famer Ron Yary on the show. Ron is arguably the best offensive lineman to ever play in the NFL. Join us as we have this opportunity to chat with this Hall of Famer about his storied career and his thoughts on the game today. Following Ron Yary, USC legend Anthony Davis will join Swoop to discuss a variety of topics. Swoop's World Late Night is on Wednesday's from 8pm/PST – 11pm/PST tune in at Swoopsworld.com.
Ron Yary
Ron Yary was the first overall pick of the 1968 NFL Draft by the Minnesota Vikings, becoming the first offensive lineman ever to be selected first overall. He played from 1968 to 1981 with the Minnesota Vikings, and 1982 with the Los Angeles Rams. During his tenure with the Vikings, the team won 11 division titles. During that period, Minnesota won the 1969 NFL championship and NFC titles in 1973, 1974 and 1976, and played in Super Bowls IV, VIII, IX and XI where Yary was one of 11 Players to have played in all four games for the Vikings. Yary was named All-Pro 6 consecutive seasons (1971–76) and 2nd Team All-Pro in 1970 and 1977 and was an All-NFC choice from 1970 through 1977. He played in seven consecutive Pro Bowls, and was a major force in a Minnesota team that was highly successful throughout the 1970s. In addition to his All-pro honors, Yary was voted the NFC Offensive Lineman of the Year three times (1973–75) by the NFLPA. He was elected to the Pro Football Hall of Fame in 2001.
Listen live or on-the-go, find out the many ways to tune in to Swoop's World.
Tweet